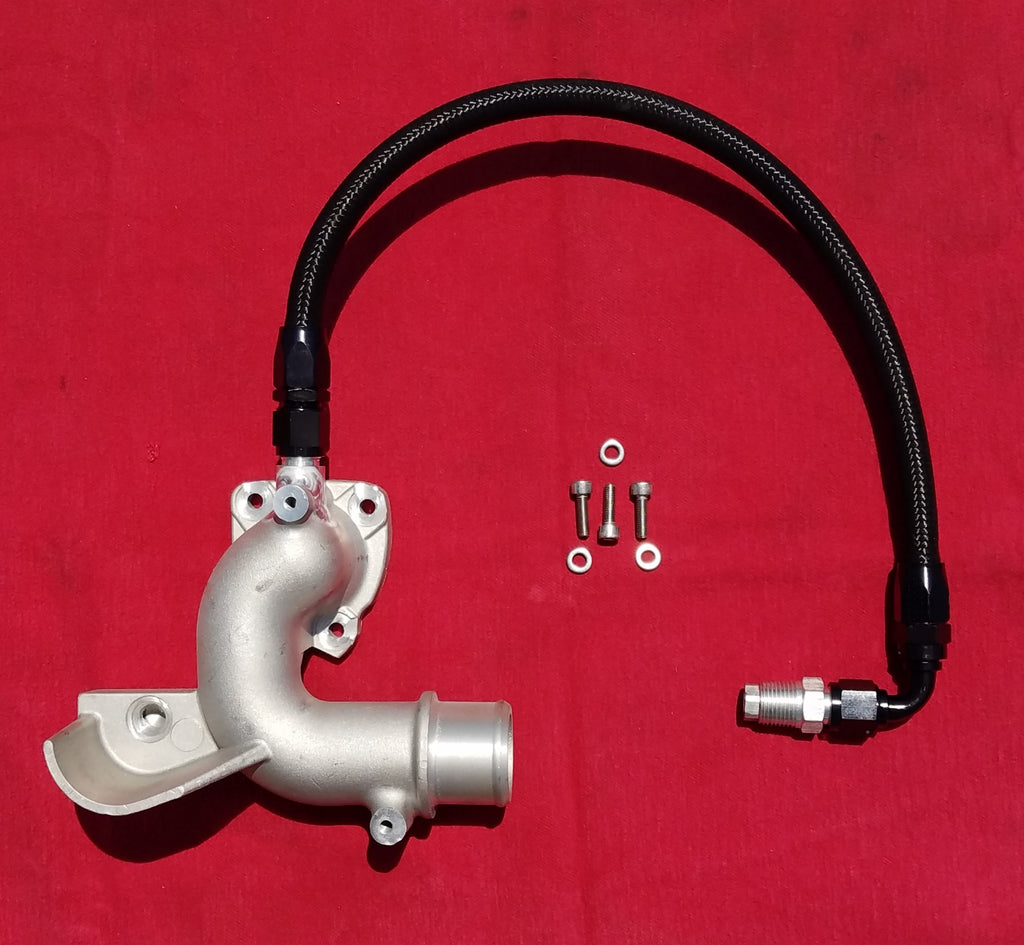 Mayhem Metal Works
2007.5- 2018 Cummins 6.7 24 Valve Common rail Dodge Ram cooling system Bypass Kit
---
Fits most 2007.5 - 2018 Dodge Cummins 6.7 24 valve Common Rail cylinder heads                                                                                                                     

This kit will work on 2007.5 -2012 to present 6.7 engines WITHOUT the EPS / VGT turbo deleted!!!! This the only direct bolt in kit that retains all factory electronics and sensors!

Please verify that you do indeed have an EPS sensor installed on your engine before purchasing!!!! We have seen many of these engines without an EPS on the thermostat housing from the factory
If your engine has the EPS / VGT deleted you can use one of our 5.9 kits which are less expensive!!!

Our water bypass kit relieves excessive pressure in the back of the engine while in most cases also dropping coolant temperatures by as much as 20 degrees!
Engines that turn high RPM's create high pressure in the back of the block that causes freeze plugs in the block & cylinder head to blow out under 'higher than stock hp applications as well as possible cylinder head gasket damage. This is a common problem with all Cummins engines that are turned up and this is the best solution.
This kit will also help with the higher temperature at the back of the engine where #5 & 6 cylinders suffer. Most commonly, people confuse poor flow to the back of the head with excessive heat. 99% of the time it is an issue with temperature and not air flow. We have tested this kit on many of our own and customer trucks for several years and this is a proven must have!!!!!
Our new proprietary bypass control valve makes installation a breeze with no removal of the valve cover or injector spacer. Less than an hour install with simple hand tools!!!!
100% made in the USA!!!!
Kit includes:

1-  Our custom in house shell cast thermostat housing with AN adapter

3-  304 stainless mounting bolts

2-  -8AN Our in house proprietary bypass control valve

1-  -8AN Braided black bypass line with Black fittings installed on both ends.
**Some 5th Gen engines have a larger inlet on the factory housing therefore may need to change to the earlier style 2012 upper radiator hose for this kit to work.
---
Share this Product
---
More from this collection