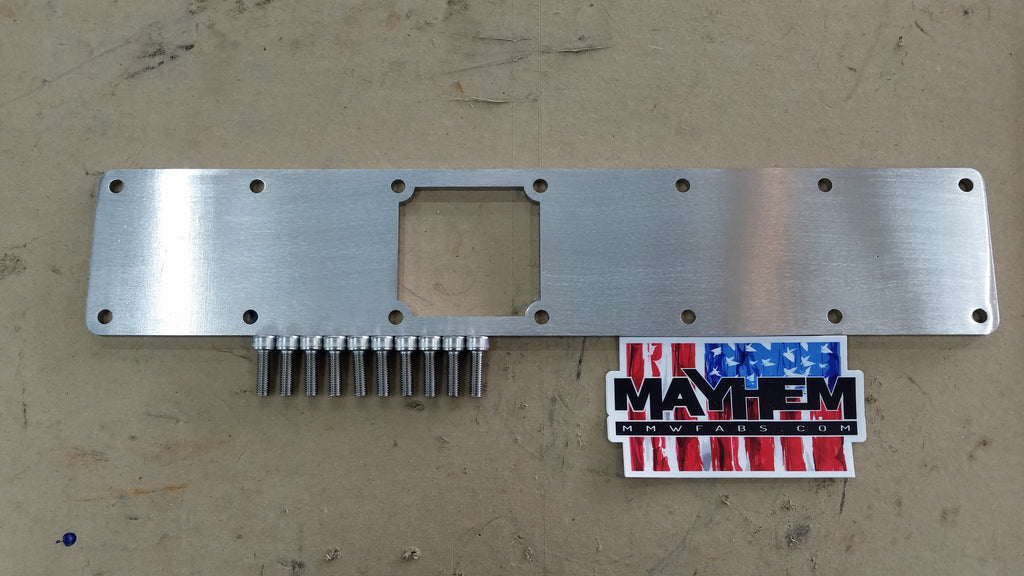 Mayhem Metal Works
Turbo Diesel 6BT 5.9L 12 & 24 valve Custom Intake Manifold Plate (Factory square hole)
---
Here we have a in house design for all 6BT Cummins 5.9 12 & 24 valve Diesel owners.

ALL 3/8 AND 1/2 PLATES HAVE A 4 WEEK LEAD TIME FOR PRODUCTION UNTIL MATERIAL AVAILABILITY IMPROVES
These intake cover plates are CNC Laser cut from USA made 304 stainless steel for way superior quality and finish. These stainless plates will never rust, tarnish, crack, chip, or oxidize, EVER!!! No more polishing.

These have shown no failures on our trucks at up to and beyond 100# of boost with no loss of boost pressure. Ever wonder why your charge tube pops off even when bead rolled with the best clamps at high boost pressures sometimes? It's because your stock cover plate with actually move and stretch under boost levels it was not designed to handle. (over 30#)

These plates also allow you to relocated your MAP sensor and your boost gauge port closer to where the boost is actually effective. You could have 80# at the horn and only 65# in the intake plenum because of boost loss in a gasket, cracked flange your anything before the plenum.
There is also plenty of room for injectors for water injection, NOS, or propane.

These use the standard 8mm hardware that your intake accepts from the factory. We supply 304 stainless hardware (not shown in picture) with the plates which will work with the stock fuel rail and with our custom intake horn flange as a heater grid/block delete.
This will also work with the stock heater grid and intake horn or any after market intake horn as well.
They are shipped blank with mounting holes and the square factory heater grid style hole for the inlet.
Our custom intake horn flange has a 3.005 hole which will accept all 3" tubing available and will work with this plate as well.

With this listing you will get:
1- 304  Stainless steel cover plate with mounting holes and 3" intake horn hole
10- Short 304 Stainless socket head mounting bolts
4- Long 304 Stainless socket head mounting bolts for the mounting flange thickness you choose.
*If you are not purchasing a flange we will not ship any bolts for the horn.
These are available in 2 different thicknesses:
*Common rail please choose this configuration so we can supply the 3 correct bolts for the fuel rail.
Some reworking of the fuel lines will be required if using the stock fuel rail and lines with 3/8" plates.

This style plate is available in 1/2" thick by special request only!!!!
In house custom polish is available for 24.00 on this intake plate. Just select Yes! when adding to cart.
---
Share this Product
---
More from this collection